Company

,

Culture
Our Journey Is Just Beginning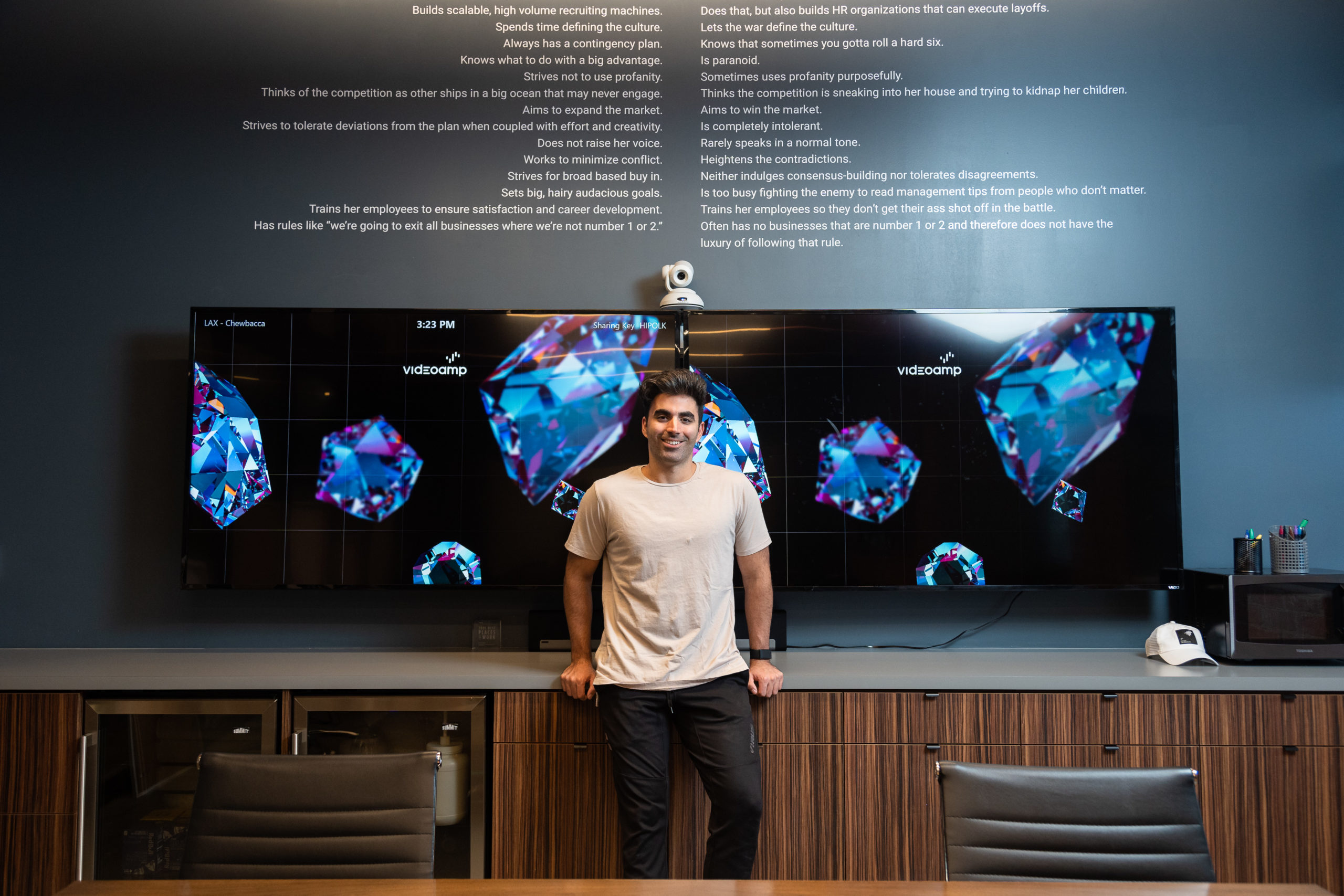 by Our Founder & CEO, Ross McCray
VideoAmp's mission is to create a more sophisticated data-driven advertising ecosystem that redefines how media is valued, bought, and sold. We believe measurement software that unifies audiences across traditional TV, streaming video and digital media with the ability to connect media exposures to an advertiser's sales will manifest a modern-day media currency that creates a healthier ecosystem for advertisers, media owners and consumers.
Today marks a very important milestone in our journey towards achieving our mission. VideoAmp has announced that we have raised an equity financing of $275 million at a $1.4 billion valuation from the Spruce House Partnership, D1 Capital Partners, Tiger Global, EPIQ Capital Group and Ankona Capital Partners. As the founding CEO of this company, it is a surreal feeling to share this with our colleagues, clients, and partners. It is a surreal feeling not because of the dollars raised or valuation, but because of (a) our founding story, (b) what we have accomplished together thus far and (c) what it means we can now do together going forward. I am writing this piece in hopes you will enjoy my reflection on our journey and to join us in this next chapter.
VideoAmp was founded on June 1, 2014 out of my studio apartment when I assembled a small group of desperate recent college dropouts and some individuals with no career track record in media or advertising. We spent the entire first day only doing two things: (a) defining the mission of VideoAmp and (b) defining the culture of VideoAmp.
We defined the mission of VideoAmp by believing we were just seeing the tip of the iceberg on how consumer entertainment would be changing. We believed in a future where consumers could watch any content, on any device, at any time and that this experiential shift would usher in a new golden area of video entertainment with more premium content than ever before. We believed that making these experiences free or affordable to everyone on the planet would require subsidies from the advertising industry generated by a three-way value exchange between a publisher producing content, a consumer viewing it and an advertiser paying the publisher for the chance to connect with its audience.
The backbone of this three-way value exchange is powered by independent media measurement and currency systems providing services to advertisers and publishers. We believed the current measurement systems designed for the antiquated single living room TV experience would be unable to properly support a future of fragmented, digital and data rich media services. We believed this would in turn power an ineffective and inefficient three-way value exchange, putting the entire ecosystem at risk.
We created the mission of VideoAmp to be the company that was purpose-built for this future. VideoAmp was founded to be the company that redefines how media is valued, bought, and sold in order to power an effective and efficient value exchange between advertisers, publishers and consumers so that everyone on the planet can access whatever content they want, whenever they want, wherever they want.
Moving on to culture, we defined this as a commitment that our people would always be VideoAmp's product. Now I realize that saying this without context sounds a little creepy. But what I mean is, we believed that our people would create our products, be the ones who service our clients, and be a support system for one another. We committed to obsessing over our belief that our company is really just a bunch of people that are coming together to work on a common goal and that the only thing that matters is how we interact with one another and uphold ourselves.
We believed we needed to create a performance culture and an environment where all our people truly felt empowered, valued and trusted over anything else. We believed that by focusing on these three areas, over more traditional corporate goals like revenue and profitability, that we would in turn create more revenue and profitability than if we focused on the latter as the goal. We believed that if we focused on our product being our people, versus our platform, software or data, that we would optimize and operate our company one layer deeper and at a more fundamental and infrastructural level. We thought this nuanced shift would give us the leverage we needed to have a real chance of solving our ambitious mission.
After a few months of trying to bootstrap the company, most of us couldn't afford living in an apartment, so we ended up living and sleeping at our office and showering at the local gym. I realized that this wasn't going to work forever, and we needed to get seed funding. At the time, I was a 22-year-old founder who had never raised money before with a team that didn't look good on paper. With nothing really else to offer, we decided to center the entire investment pitch deck on trying to convince people to invest based on our mission and philosophy on culture. As you can probably guess, most investors didn't believe we had remotely close to the right team DNA to solve our mission and no one believed culture was a strategy and reason to invest in a company, all except one.
After months and dozens of unsuccessful investor pitches, I pitched Jon Bauch while he was at Anthem Venture Partners in Santa Monica. He immediately resonated with our mission and subscribed to our world view that culture is a strategy. He believed enough in us to be our first investor, the lead investor of our Series Seed round and our first $500k equity check. He invested in us purely because he thought the right culture can assemble the team and environment needed to solve our mission. Everyone else thought he was crazy. This ended up being everything we needed to get to the next level over the next few months. We built our first minimal viable product, won some clients, and raised another $1.7m after we had enough traction to show investors to close out a total $2.2m Series Seed equity round at a $6m valuation. We were well on our way.
Jon ended up becoming my best friend, mentor, coach, and most influential and knowledgeable board member. Jon became the first person I called for advice, helped us get through our darkest times and a man of the people who made himself available to all employees. He spent so much time understanding the deep intricacies of our business and our culture, it was like he was a co-founder of VideoAmp. Not only would VideoAmp not exist today without him believing in us when no one else did, but we wouldn't have been able to accomplish what we have to date without his guidance along the way.
Over the last seven years, we have kept our heads down and grinded. I am proud of the accomplishments that VideoAmp has been able to achieve. With less than 200 ramped employees, we have grown our revenue run rate to over $80 million a year and, on average, have grown our revenues over 100% YoY over the last five years. We license our measurement and optimization software to some of the world's largest advertisers and they depend on us to strategically inform their media investment decisions. We are actively working with six major media agency holding companies who control over 75% of all advertising dollars on pilots for VideoAmp's platform to be an alternative media currency. We have formed partnerships with almost all the major media companies, including ViacomCBS who recently announced they will use VideoAmp's platform as an alternative media currency and Facebook announcing us as an official attribution measurement partner. We have been able to assemble and recruit a world class team, including recently bringing on on Paul Ross, former CFO at The Trade Desk, as our CFO, Tony Fagan, former VP of Engineering at Google, as our CTO, and Cameron Meierhoefer, former COO at Comscore, as our Chief Product Officer.
I attribute these achievements to the fact that the mission we created in 2014 is still the same exact mission we have today (see here) and that we have maintained our commitment to our culture. Having our team operate with a collective consciousness on a deeper fundamental level resulted in ourselves being perpetually curious on how to grow and make our culture even stronger. This resulted in a breakthrough philosophical discussion one day about defining what our success is in respect to our mission. We came to the conclusion that our success is redefined by our client's success and that we only win when our clients win.
This revelation and shared understanding acted as a chain reaction in our culture. We wanted to do everything we could to make our clients win and we obsessed over it. We wanted to over promise, then over deliver. We had a burning desire to move faster and deny the laws of physics. We concluded that there was always slack in the system, no matter what anyone says, and it was our responsibility to exploit every single opportunity possible to optimize. We relentlessly raised standards, pushed each other out of our comfort zones and held each other accountable to the mantra of "how you do one thing, is how you do everything" (see an example in VideoAmp's fitness challenges here). Our passion for solving our mission and having our clients succeed became so palpable that you could feel the heightened intensity here. Liking our work wasn't enough, we needed to love it.
We were acting differently and the results were clear. We continued to deliver value to our clients at incredible speeds and seemingly impossible tasks continued to be defied. As time went on, our conviction level on how important this was to us continued to increase and it became one of the most frequently discussed topics in our company. We longed for finding ways to demystify and codify our culture in order to learn how we could further optimize and scale new employees joining the team without fucking it up.
We ended up doing an eight-hour workshop on what characteristics all of our highest performers have in common, what behaviors we celebrate the most and what behaviors we chastise. This exercise manifested itself in the creation of a set of values that we believed individuals could uphold that best represented our culture and would give us the best shot of solving our mission. We have had VideoAmp values since 2015 and have critically used them in our hiring, promotion, and personnel removal processes ever since. We have continued to refine and optimize our values, today you can find them here.
As the years went by, we noticed external people and new investors became less and less skeptical about our strong stance on culture as a strategy as we started to build a track record around our business results. I smile every time I think about how this trend has evolved over time and think back to our Series Seed round where no one believed in it except for Jon.
Tragically and unexpectedly, Jon passed away in an accident on August 3, 2019. Throughout the five years of working together, there wasn't a day that Jon didn't believe in our mission, our team and support our strategy of leading the company culture first. There were times that he believed in us more than I think we believed in ourselves. While we all wish Jon was here today, we know how he would view this company milestone and what he expects of us in this next chapter.
This brings us to today's news and what this means for us going forward as we announce that we have raised a Series F equity financing of $275 million at a $1.4 billion valuation. Our focus continues to be on solving our mission and growing our culture. We have data to believe that we are only 1% penetrated in our total addressable market and that really means our journey is actually just beginning. The main difference going forward will be the scale and speed of which we will be accelerating towards solving our mission and servicing our addressable market.
This funding will strengthen our leadership position in cross-platform media measurement and optimization software. We will also use the funding to accelerate the rollout and adoption of our platform as a media currency for the entire advertising ecosystem at scale across traditional TV, streaming video, and digital media. We will no longer need to meter our roll out and keep an overly long waitlist. We will focus on exponentially growing the company's headcount by adding hundreds of new roles in our enterprise sales, engineering, data science and client success teams. If you are interested in learning more about our open roles, please visit our careers page at www.noleeches.com.
The investment in our technology organizations will allow us to accelerate on our deep three-year product roadmap in order to deliver on it within a year. It will also allow us to massively scale our sales and client success coverage across our advertiser and agency solutions, while creating a newly dedicated sell-side organization focused on servicing TV networks, MVPDs, OEMs and digital platforms. This infrastructure will finally allow us to scale out and support our platform to everyone in the industry.
Thank you to all previous and current VideoAmp employees who have poured their heart, soul, blood, and tears building VideoAmp. Thank you to all of our clients who believe in us and share our mission. Thank you to our partners for helping us be a platform for the ecosystem and thank you to our investors for being with us every step of the way. See you all soon.
— Ross McCray, Founder & CEO of VideoAmp